【VSO Exhibition】Energy Taiwan, VSO Advances Solar Power and Energy Storage!
Achieving zero carbon emissions is a universal goal, whilst carbon neutrality is the goal that VSO is committed to for ESG. VSO's experiences developing in-house solar systems have established a solid energy-saving and carbon-reduction foundation. This has also led us deep into the renewable energy sector, becoming a significant opportunity to expand our product applications in solar energy and energy storage. From October 18th to 22nd, 2023, VSO will join "Energy Taiwan" as an exhibitor (booth number I1403) at the "Smart Storage" exhibition. Wire harness and cable assembly products of Renewable energy will be first released, as well as the application scenarios in the solar system and energy storage cabinet.
With the increasing global demand for sustainable energy, the renewable energy industry is rapidly becoming the driving force in the energy sector. Recently, the trend and development of global carbon-free emissions have become more certain. Through introductions from partners, VSO began engaging with products in solar systems. Not only assembling and manufacturing solar system junction box connections, but VSO has also successfully built cable assembly processes for household energy storage cabinet connections and energy system connections. This has significantly strengthened the capabilities of wire harnesses and cable assembly in energy storage and expanded the scope of products in energy application.
VSO's energy-related cable harness products can be applied in energy storage systems, household energy storage cabinets, and microinverters. Also offers efficient and reliable wire harnesses and cable assembly solutions. Not only do they enhance energy utilization efficiency but also play a crucial role in ensuring a stable energy supply. Participating in Energy Taiwan 2023, the largest carbon-free transformation trading platform in Taiwan, booth number I1403, VSO sincerely invites domestic and international customers and partners to visit. Let's gain insights into the latest developments in the energy industry, exchange knowledge, and least but not last, seize the opportunity to become part of the low-carbon sustainable movement. Let's work together for the goal of global carbon-free emissions and embrace a brighter energy future!
Oct. 18th~22nd, 2023 at TaiNEX1 of Taipei Nangang Exhibition Center
Booth I1403, VSO Electronics.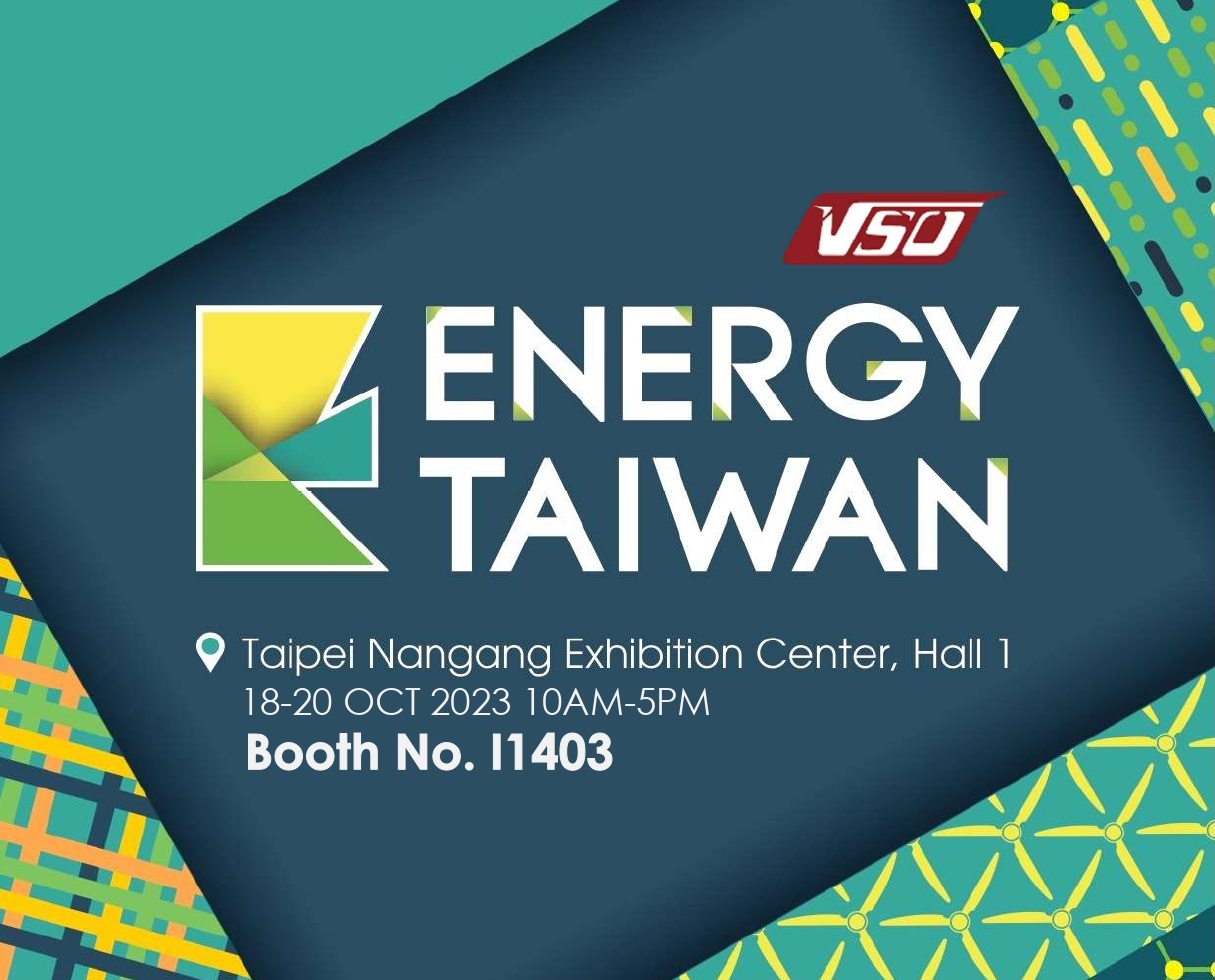 【2023 Energy Taiwan Successfully Ended 】2023.10.20
We are truly honored and thank you for visiting us at Energy Taiwan 2023. Hope that the products and solutions we provide can effectively address your needs.
VSO is a leading wire harness and cable assembly manufacturer and participated in this exhibition for the first time this year. In addition to showcasing representative products in the six major industry fields(iSMART), we also simultaneously exhibited the active deploying of green products, including residential energy storage systems and smart microinverters, as well as matching high-voltage & high-current wire harnesses and other products. VSO is your comprehensive solution provider for various wires and energy storage systems!